When the days begin to shorten and there's a telltale crispness in the morning air, Coloradoans begin to watch for the first peep of gold. Colorado is home to the largest concentration of aspen trees in the world, over 5 million acres (or 20% of the state's forested lands). The aspen tree is native to colder climates and grows year round, meaning that aspens can be found at the lowest elevations (within City limits) all the way to the forests of the tallest peaks in the Colorado Rocky Mountains.
Because of the Centennial states' higher elevation, Colorado is home to some of the thickest concentrations of aspens in the United States. As the days get shorter, aspen leaves turn gold as the amount of sunlight slowly decreases and chlorophyll production diminishes. It's at this time that the Colorado fall leaf peeping season begins and the "quakies", as the trees are known, become the largest tourist attraction in the state.
Fall leaf peeping in Colorado is a bucket list item for many people, and timed correctly, you can catch the golden peak - the two week window where the gold aspens leaves are at their most vibrant. This results in some of the most brilliant photos, hikes, sunrises and sunsets you've ever witnessed. Below are some of our favorite drives to catch a glimpse of one of nature's most beautiful and brilliant displays.
Know Before You Go: Timing is Everything
According to Visit Denver, Denver has one of the longest periods of fall colors of any city in the country. That's because there are five different climate zones within a two-hour drive of downtown Denver. While there are plenty of places to see Colorado's changing aspens, timing is everything. The changing leaves are affected by weather, elevation, drought, insects and more. Depending on the elevation, you can find yourself at the height of fall colors from mid-September to mid-November. While plenty of locations around the front range offer gorgeous views accessible by car, horseback or hiking, we've selected our favorite scenic drives to share.
Colorado's Top Scenic Drives for Fall Colors
Photo by Mike Starkey
Aspen: Independence Pass
No aspen leaf peeping tour would be complete without a trip through Aspen, Colorado. Aspen is known for the Maroon Bells, just 10 miles outside of town. These peaks are the most photographed mountains in all of North America and while the hype is real, so is the traffic. Reservations are now required to visit the peaks and they are only accessible by bus/shuttle or bike. While we would never deter you away from seeing these 14,000ft+ beauties (they are stunning), if you're looking for a leisurely fall drive, Independence Pass is equally as gorgeous.
Independence Pass is part of Colorado State Highway 82 and passes over the Continental Divide between Leadville and Aspen. The summit at the Continental Divide is 12,095 feet above sea level. It is about 32 miles long and takes anywhere from 45 minutes to an hour-and-a-half with stops along the way to enjoy the scenic views. The pass twists around stunning groves of aspen trees and hugs the Roaring Fork River. The road is steep, narrow, and twisty with only a few guardrails, but is completely safe as long as you obey the speed limit. If you've got the extra time, be sure to visit the Independence Pass Ghost Town before making your way into Aspen.
Guanella Pass
(accessible from Idaho Springs or Grant)
Located in central Colorado, Guanella Pass is a high mountain pass that stretches 22 miles between the towns of Idaho Springs and Grant. The pass climbs more than 3,000ft in elevation, winds through multiple mountain ecosystems, passes through two of Colorado's most well-preserved historic mining towns (Georgetown and Silver Plume) and is flanked by two of Colorado's most popular fourteeners, Mt. Bierstadt and Mt. Evans. There are multiple hiking trails and campsites along the pass as well as photo opportunities.
Beware of the fall weekend traffic, driving over the pass takes roughly one hour but because the pass is so easily accessible from Denver, it can take up to three times as long depending on traffic conditions. Guanella Pass closes for the winter in mid-November, be sure to check road conditions prior to your trip.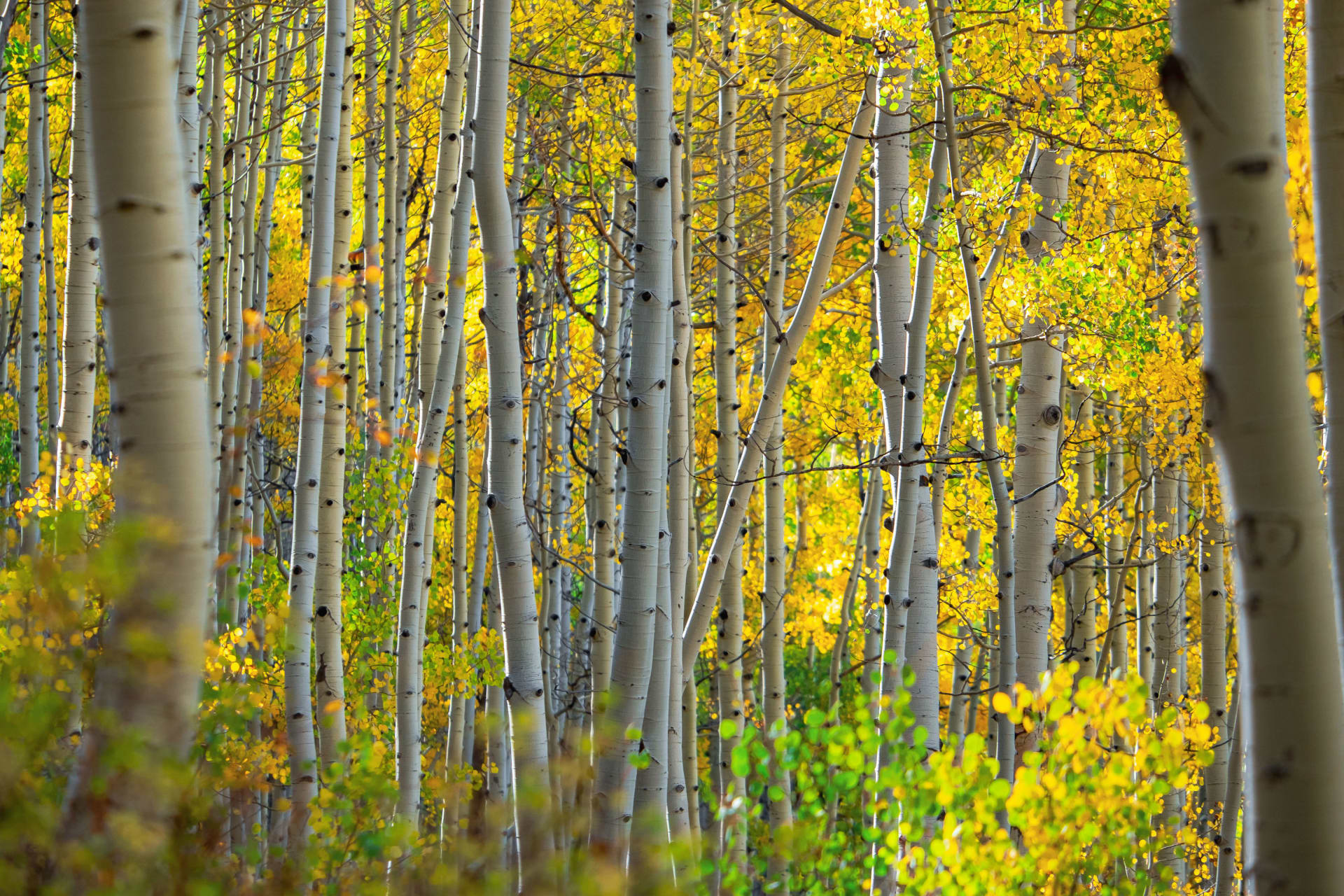 Photo by Mike Starkey
Vail: Piney Lake
Unbeknownst to us, blogs and news articles around the Denver Metro Area never recommend the Vail Valley as a destination for leaf peeping. Perhaps it's because, from Denver, drive time is approximately 2 hours, but in our opinion, it's absolutely worth it. The Vail Valley is packed thick with aspen trees. It's no wonder that people come from all over the world to experience a rare blue sky powder ski day in the back bowls of Vail - but what makes the powder days so magical? Aspen trees - thousands of aspen trees lining the slopes.
Naturally, during the fall, the valley is ablaze in yellow and gold. One of the most magnificent places to experience the fall foliage is Piney Lake, just 12 miles from Vail Village. While not a seemingly long drive, the unpaved road traverses up the mountain and switchbacks wind up through the forest. Expect the drive to take approximately 45 minutes, but the spectacular view of Piney Lake nestled at the base of the Gore Mountain range, surrounded by aspen trees is worth the effort. Looking for more than just a drive? Upper Piney Lake trail is a 5.9-mile out-and-back trail that is considered a moderately challenging route and takes an average of 2 h 26 min to complete. The best time to visit for aspen leaf peeping is mid-September through early-October. Dogs are welcome, but must be on a leash.
Last Dollar Road (accessible from Ridgeway or Telluride)
It's difficult to say one place is better than another in the Colorado mountains. Beauty, serenity, and awe-inspiring views take your breath away at almost every turn. But, there is one scenic route, off the beaten path, that stole our hearts and has us claiming it as the best - Last Dollar Road. Perhaps it's because we weren't strapped for time and had an abundance of it to explore. Or maybe it's because the road winds through two of our favorite mountain towns in southern Colorado. Or perhaps it's because the Sneffels range is a constant feature along every turn. Regardless, the Last Dollar Road is worth the effort to experience the Colorado fall colors in a truly majestic setting.
The route, for which experts recommend using a high-clearance, four-wheel drive vehicle, winds through aspen and spruce-fir forest, oftentimes breaking into clear spots that offer panoramic views of San Juan Mountains, including Wilson Peak and the Sneffels range. Visit Colorado staffers write: "As Last Dollar Road winds through a low valley surrounded by jagged peaks and deep-blue skies, each bend delivers jaw-dropping scenery. At one turn you'll find yourself in a cathedral of sun-bathed aspens; at another, a flat vista with views of a quilt-like terrain of furry pines and aspens; turn again, and you're in a wide-open grassy field, where pristine nature is the only thing between you and the San Juan Mountains." We couldn't have said it better.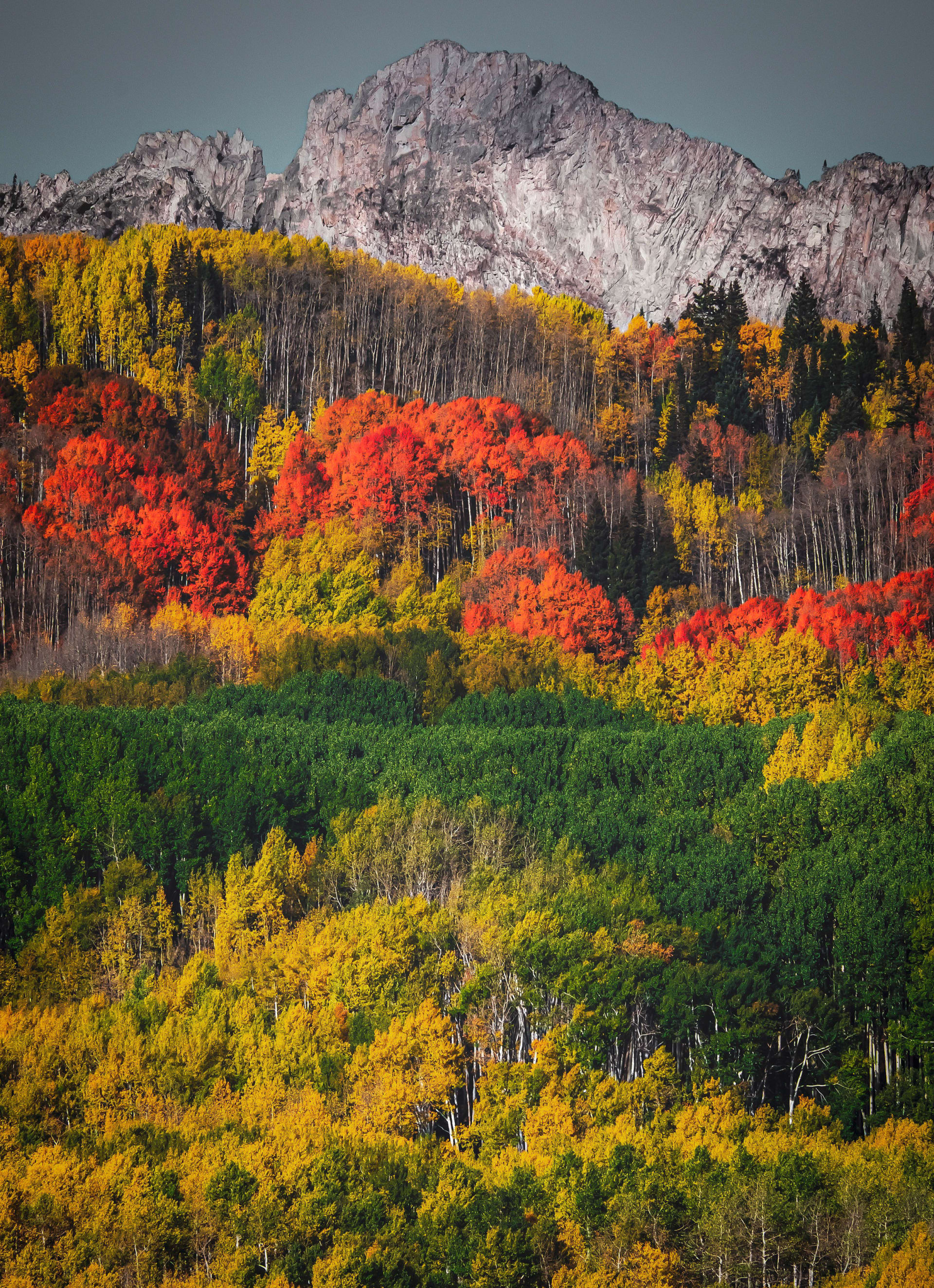 Photo by Mike Starkey
Crested Butte: Kebler Pass
While fall colors are spectacular in many places in Colorado, they're especially majestic along Kebler Pass. Kebler Pass is a scenic mountain road that stretches about 30 miles from Highway 133 near Paonia State Park to Crested Butte. The road is unpaved, but well maintained and passable for cars with two-wheel drive.
It famously traverses through the state's largest aspen grove, lauded as one of the largest living organisms in the world. The aspen trees are gigantic, rising over 80-100ft tall in some areas with trunks the size of small cars. For as far as the eye can see, aspen groves, willows, and maples are abundant, making the fall foliage a spectacular variety of autumnal colors including yellow, gold, orange and red. That plus the numerous mountain peaks you'll see along the way are what makes the pass a must-drive during leaf-peeping season.
Rocky Mountain National Park: Trail Ridge Road
Trail Ridge Road is one of the most scenic leaf-peeping routes in the park. The road is a 48 mile stretch that traverses through the park between Estes Park and Grand Lake. Trail Ridge Road is the highest paved road in North America. With postcard worthy views, you're sure to witness spectacular fall foliage in addition to mountain wildlife such as elk, bighorn sheep, moose, fox and even bears.
Trail Ridge Road closes for the winter due to snow accumulation starting in mid-October so be sure to visit before then to check out the incredible views. Call the park's Trail Ridge Road recorded status line at 970-586-1222 for current conditions.
No matter where the road takes you this fall, there's magic in the air in Colorado! Happy Trails