When the snow is falling in Colorado it means it's time to get outside! There are a plethora of outdoor activities to enjoy no matter what the weather during the winter months. Whether you're looking for a winter getaway in one of the many world renowned mountain towns in Colorado, or just a short drive from Downtown Denver, we've got you covered with some of our favorite things to do in some of the most beautiful locations. Colorado has so many winter wonderlands worth exploring while the snow is still falling, let us help you get out there!
Snowmobiling
Exploring Colorado's high country in the winter is a breeze when you have a snowmobile! Whether you're looking for an adventure for the entire family or a chance to race through the snow at high altitude and speed, there's more certainly a tour (guided or unguided) for you.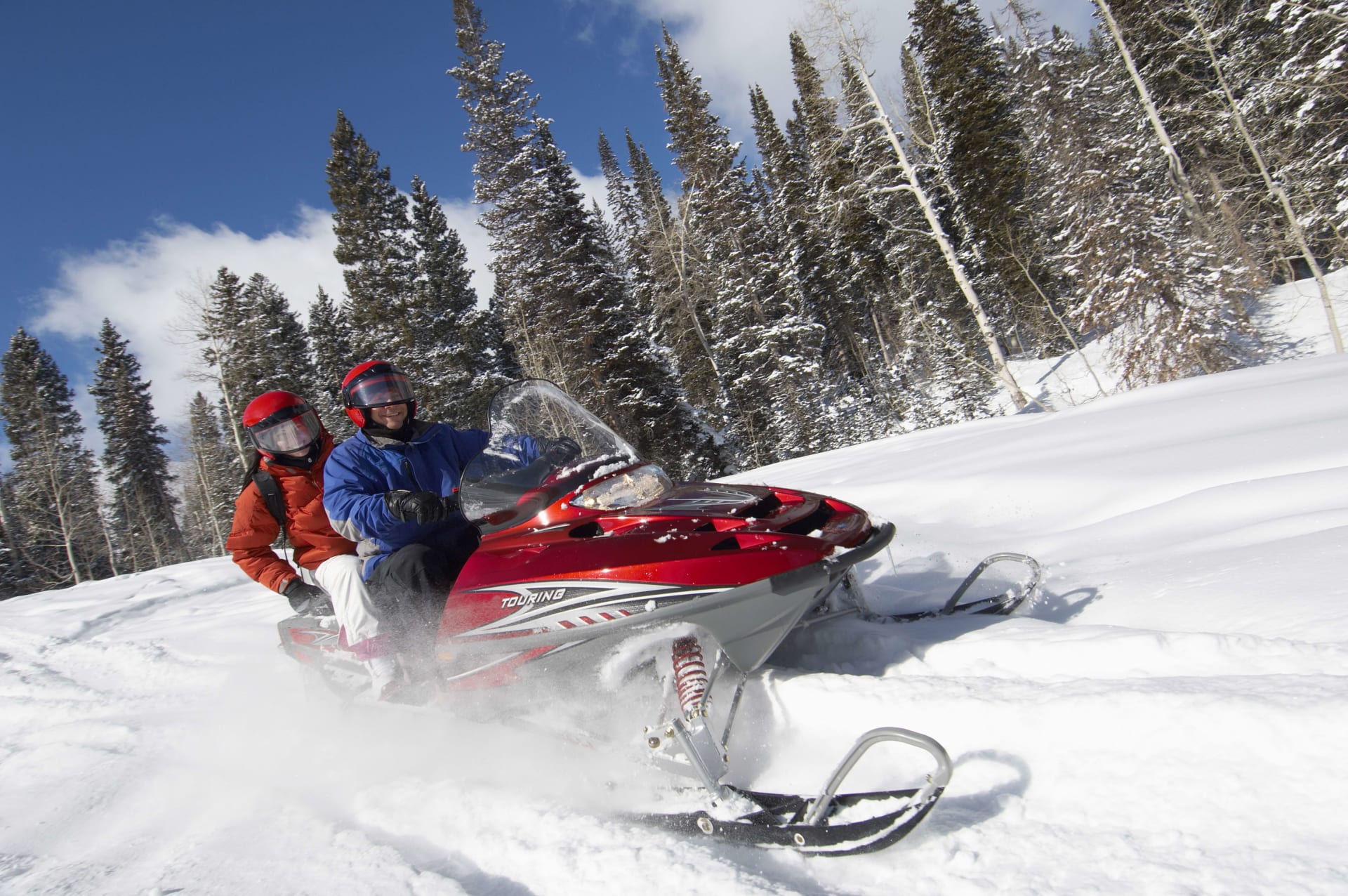 Crested Butte
If you're looking for a truly magical experience, Crested Butte is it. Known for its legendary snowfalls and powder throughout the winter, Crested Butte is a snowmobiler's dream and Kebler Pass, home to one of the largest Aspen tree groves in the United States, is ripe with adventure.
Steamboat Springs
Steamboat Springs, known for its fluffy white powder and miles of expansive land is great for snowmobiling. The terrain is incredibly rideable with many parts of the area open and treeless, making for miles of pure, easy riding fun.
Skiing and Snowboarding
Colorado ski country - nestled in the heart of the Rocky Mountains and boasting 32 ski areas across the state - is a winter recreationists' dream. Today, Colorado hosts nearly 25% of all skier visits in the U.S. annually. Whether you are a beginner, lifelong snow rider or an Olympian, there is a ski and snowboard area calling your name in Colorado. Below are a few of our favorites!
Vail: an iconic experience
Vail truly has something for everyone because it is the largest ski resort in the state of Colorado. While there are a ton of groomed runs making it a beginners paradise, the back bowls of Vail are legendary and unlike anywhere on earth on a powder day.
Winter Park: a family resort
On the other side of Berthoud Pass, Winter Park is just an hour and a half from Denver. There's three terrain parks and each side of the massive mountain offers something unique. Locals know the steep and long runs on Mary Jane are perfect for experts looking to keep their skills sharp, while the Winter Park Resort side of the mountain is a haven for beginners.
Telluride: a powdery wonderland
Telluride is set in a box canyon with views for days. These stunning views, and over 2,000 skiable acres, makes it a world-renowned resort and the #1 ranked North American ski resort by Conde Nast Traveler. The terrain is incredibly varied which makes it a great destination for all abilities, and skiing and snowboarding are just two of the many winter activities available in this historic mining town.
Breckenridge: variety galore
Located an hour and a half from Denver, Breck, as it's known to locals, is a mountain that truly offers something for everyone. With nearly 3,000 acres and 190 skiable trails, Breckenridge also features four terrain parks and two half pipes.
Loveland: a hidden gem
Often overlooked as skiers and snowboarders whip right by on I-70 to other ski resorts, Loveland boasts an unusually high average snowfall per year and nearly 100 runs. With steep trails to race around on, Loveland is great for intermediate and advanced snow riders. Additionally, Loveland Valley, separate from the fast pace of the main mountain, is known for its easy terrain meant specifically for beginners.
Cross country skiing and Snowshoeing
Nordic centers throughout the state offer unrivaled snowshoeing and cross country skiing opportunities. While you can snow shoe and cross country ski just about anywhere the snow falls, nordic centers are a great way to get on the snow quickly, access gear easily and explore Colorado's winter wonderland thoroughly! With over 20 nordic centers in Colorado, you'll have access to these favorite winter pastimes no matter where you go.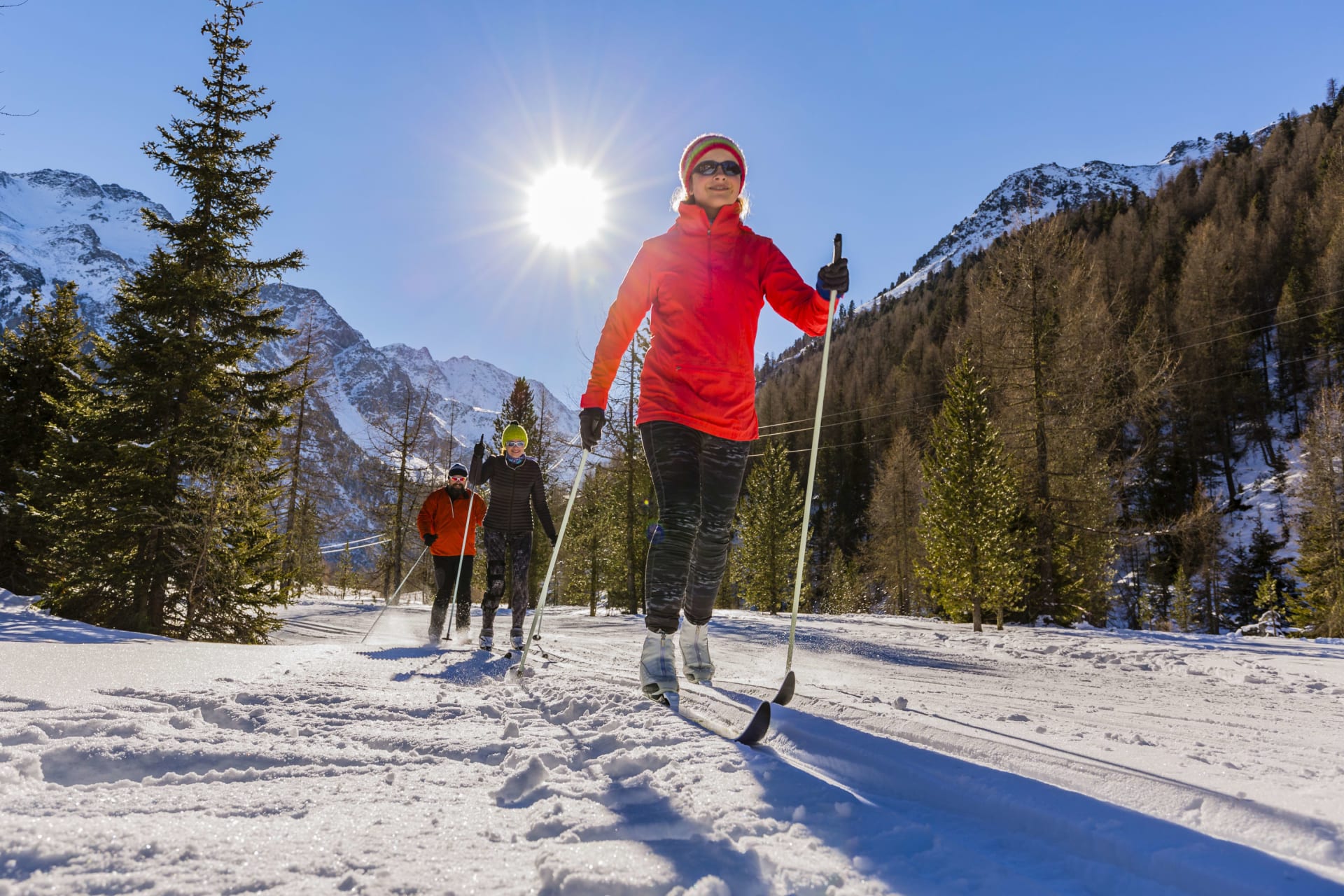 Vail
During the winter, the Vail Golf Club temporarily closes and becomes the Vail Nordic Center. Located right in the heart of this popular Colorado mountain town, the Nordic Center offers over 10 miles of daily-groomed skate and classic tracks for Cross Country Skiers, in addition to scenic trails for snowshoers. You can also book lessons and rent gear from the Nordic Center as well as indulge in homemade soup and other goodies throughout the day.
Aspen/Snowmass
The Aspen/Snowmass Nordic Trail System is one of the largest free cross-country skiing and snowshoeing networks in North America. Boasting 55 miles of trails, the trails system is known for its beautiful valleys, aspen groves and pristine snow and trails that connect Aspen, Snowmass and Basalt.
Tennessee Pass
Overlooking the stunning Sawatch Mountains and nestled right next to Ski Cooper riding area, the Tennessee Pass Nordic Center is a gateway to all day winter fun! Skis, snowshoes, coffee bar, beer & wine, soups & sandwiches, a toasty wood stove, and a large sunny deck? Yeah, they've got all that!
Ice fishing
Love the relaxation, fun and thrill of hooking a fish in the summer? No need to wait for warmer weather when you're in Colorado, ice fishing offers the same excitement. Just be sure to bundle up and grab the right gear (and remember that includes your fishing license)!
Eleven Mile Reservoir
This 5.5 mile long reservoir is located between Wilkerson Pass and the pastoral town of Hartsel and is a Colorado State Park. Eleven Mile Reservoir is a popular body of water and it's known for large rainbow trout, often measuring in the 14-20 inch range. The north side of the reservoir is known as the Dream Stream - a location that fly fishers from all around the world flock to throughout the year. For fishing reports and ice conditions, contact Eleven Mile State Park at 719-748-3401.
Safety first! A safe rule of thumb is to be sure the ice is at least 4 inches thick. Be sure and check ice conditions before heading out and follow a path if there is one. Because ice thickness can vary across an area, check more than one spot. Remember this rule of thumb: "Thick and blue, tried and true. Thin and crispy, way too risky."
Fly fishing
While it's a secret many anglers might be hesitant to share, Colorado winters are actually some of the best months to fly fish the rivers of Colorado. The many tailwaters throughout the state prevent rivers from freezing over and allow access to the water. Even when the snow is falling the fish are still active and feeding. You can even take a guided float trip on the Colorado River during the winter months.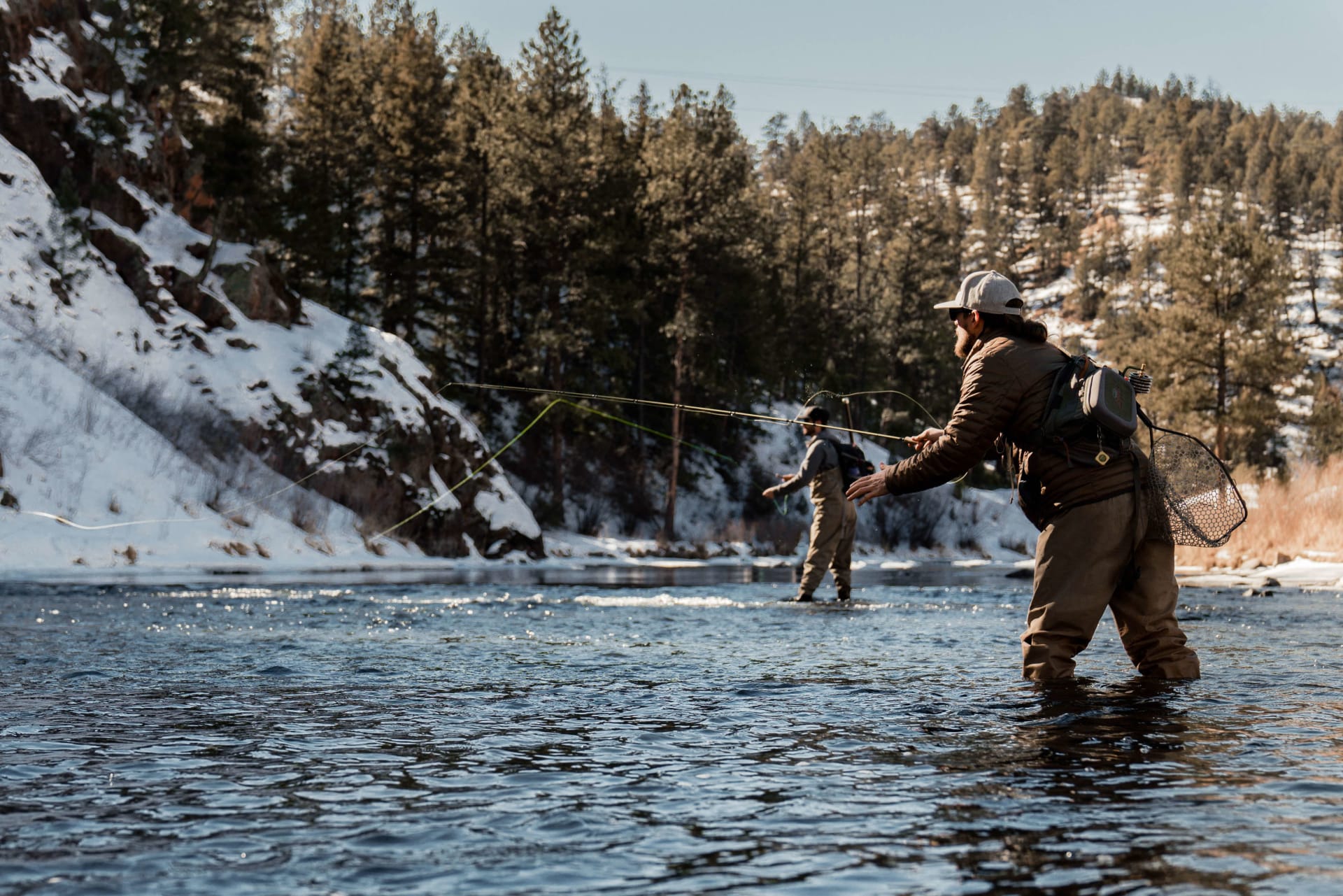 Deckers & Cheesman Canyon
Located just an hour and a half from Downtown Denver, Deckers and Cheesman Canyon are local favorites. These popular sections of the South Platte River are Gold Medal waters and provide access to multiple species of trout throughout the year.
Frying Pan River
The Rudy Dam, located by Basalt, Colorado, maintains consistent flow all winter which provides some of the best winter fly fishing in the state. Midge hatches can occur even in the harshest winter months.
Blue River
Just a short drive from Silverthorne, the Blue River is a consistent year-round tailwater. Popular because of its easy access and convenient location, this Gold Medal fishery provides anglers the chance to catch rainbows, browns and even the occasional brook trout, cutthroat trout and kokanee salmon.
Dog sledding
There's nothing quite like racing through Colorado forests, gliding over snowy trails with the wind whipping around as a team of dogs pulls you through the wintery backcountry. Many mountain towns have dog sledding guide companies that offer a unique chance to be a part of an exciting, unique and often overlooked winter activity.
Leadville, Camp Hale
While you can book a dog sled tour at many of Colorado's ski towns, a well-known company operating out of Leadville, Alpine Adventures Dogsledding, has been offering dogsled tours for years and is a rescue facility for sled dogs. Take a tour with a team of 10-12 racing dogs and if you happen to fall in love with any of your dogsled team, you can consider taking them home as all dogs are adoptable!

Do you dream of making Colorado your home so you can experience the many winter adventures the state has to offer? Contact Luke O'Bryan, not only is he an experienced real estate agent, he's a Colorado native and can help you find your dream home so you can start your Colorado winter activities today!