It's golfing season in Colorado and for a state that arguably has some of the best golf courses in the west, that means it's time to explore these stunning courses this summer. Whether you're a scratch golfer or still dialing in your swing, there is something for everyone. Join us for our final post in this three part series on golfing in Colorful Colorado!
Instruction: Do You Really Need it?
Type in "should I take golf lessons" in google and the amount of blogs, resources and video content producers waiting to tell you their opinion will boggle your mind. The question has been asked for decades, and the best answer is another question: "what do you want to get out of it?" If your answer is to improve, then lessons are for you!
Whether you're a scratch golfer, still dialing in your swing or taking to the green for the first time, lessons offer an opportunity for improvement for everyone. Are you a beginner? Lessons will help you develop the fundamentals before any bad habits come creeping in. Have you been playing all your life? Instruction is a great way to improve your game and take it to the next level.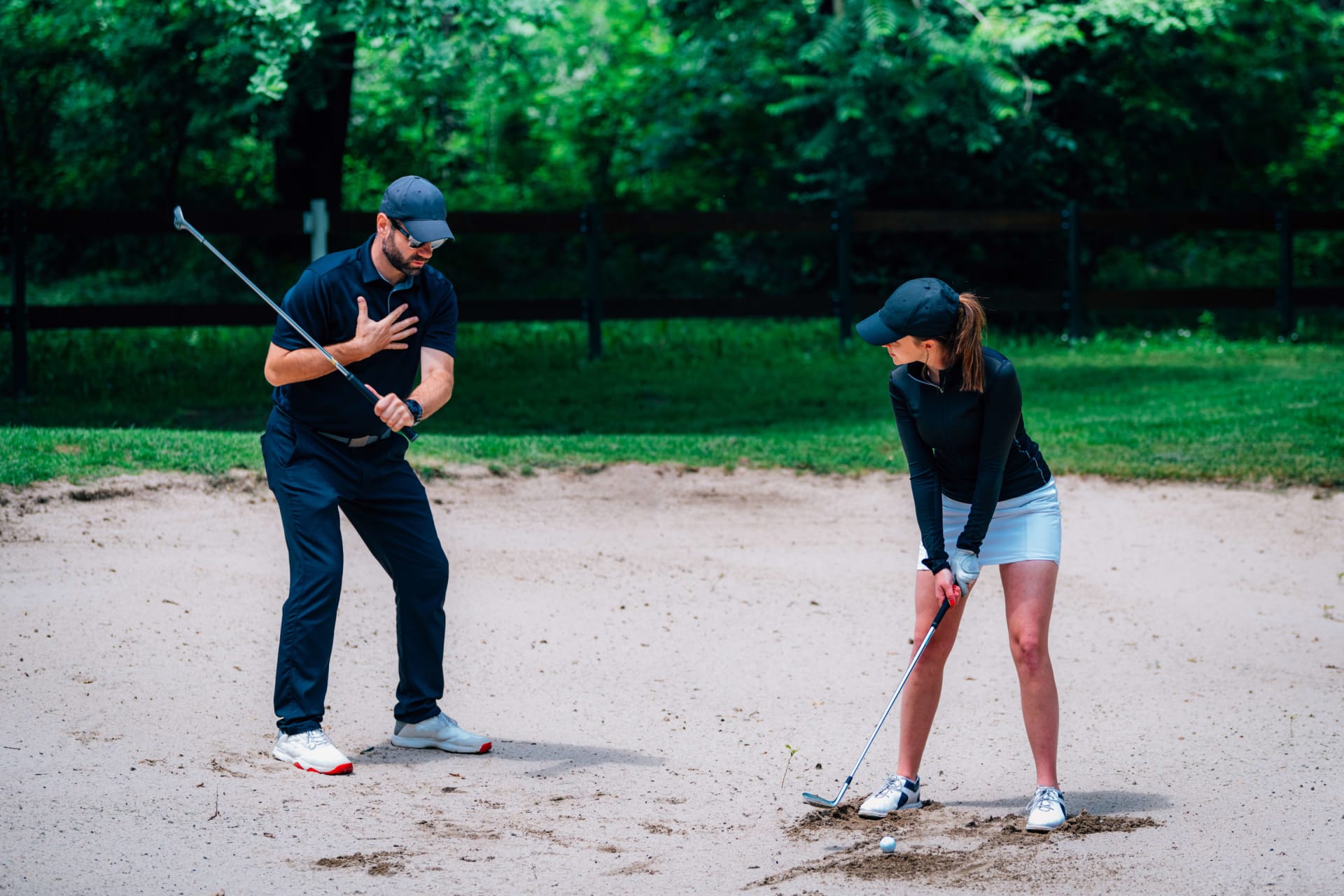 Of course, magic doesn't happen overnight. Just like any sport, you have to practice what you learn in order to improve. Taking 3-4 golf lessons is bound to help identify parts of your game that need improvement, and with solid instruction, you will likely see improvement quickly, but it's putting in the real work after the lessons that really make a difference. Just like playing an instrument, you need to practice what you learn in between your lessons in order to see any growth or improvement. If you've been playing golf for 30 years, like I have, without any instruction, you're bound to have some bad habits that need to change. Working with a local pro, taking lessons at a learning center or joining a certified program is a great way to start.
What are some of my favorite programs and locations in the Denver metro area for golf instruction? Read below for more information.
Golftec combines the science of sport with tech for instant feedback and gratification. Private lessons with a pro are often done using simulators and video technology to record and track body positioning throughout your entire swing allowing instant feedback and suggestions. Additionally, they offer custom golf club fitting and measurements to ensure that all your hard work is rewarded by the correctly fitted clubs.
Led by Colorado LPGA Class A Teaching and Club Professional, Elena King, Experience Golf is a complete game-approach to golf instruction. The program offers something for everyone including private instruction, adult clinics, junior clinics and camps and season coaching programs. By starting with a DISC assessment for sport, instructors learn how to evaluate where you're at and how to work with you to improve your game based on your assessment, meaning every program is custom made for each golfer. If that weren't enough, the results and success of the program's students has garnered some of the most prestigious awards to its coaches including Golf Digest's Top 10 Best Instructors for 10 years running and Top 50 LPGA Teacher.
Working with a Local pro
Working with a local pro can provide a unique and personal experience that can help your game soar. Golf pros work as either independent contractors or are employed with a club, hotel, or resort. Typically, they are highly successful and technically skilled golfers who have an aptitude for conveying technique and gameplay through verbal instruction and physical demonstrations. They understand weaknesses in a student's game, and will instruct and guide the student in order to make improvements. There are hundreds of local pros in the metro area offering up instruction, below are a few links to search for the one that best fits your needs.
Gear: What's Worth it?
Let's start with the basics - clubs. Obviously you cannot play without a set of clubs, but what are the right type, fit, brand, etc.? Playing with the right type of clubs really comes down to preference, clearly the top well-known brands like Cobra, Callaway, Ping, Titleist, Mizuno and TaylorMade all make excellent clubs, but there are also some up and coming brands like PXG and Robin Golf that are great for golfers.
Regardless of your brand preference or your ability, it really comes down to the fit of your clubs, which is why we recommend you get fit with a professional.
A professional club fitter matches you to the correct clubs

The correct clubs help improve and enjoy your game

It sets you up for good habits
So now that you have the right clubs for you, what other fun gear should you invest in? Our personal belief is that anyone that tells you that you have to have something other than the correctly fitting clubs is selling you. There are hundreds of thousands of gear options for golfers and none of them are essential to improving your game.
There is, however, some fun gear that is not necessary at all, but totally worth it (in our opinion). Read on for our tips on why having some additional gear is not only worth it, but fun!

Range finder
If you've got a few hundred bucks burning a hole in your pocket, a range finder is definitely worth it to help improve your game. A range finder will give you a reliable and accurate reading of distance and, with newer technology and design, a clearer picture of your target. If you play regularly, you will certainly get the value for your money - and who doesn't love playing with laser technology?!
Golf watch
Equipped with GPS, a golf watch can provide a wide variety of helpful readings that can shave strokes off your score and help add a little more fun to tracking your day on the green. There are tons of different models available, even watches that offer fitness components and can alert you about calls and messages on your phone. But common to all golf watches is the ability to map out the course, alert you to possible obstacles, provide accurate distance measurements, and keep track of the score.
Ball Retriever
While debatable whether or not you should spend too much time looking for and retrieving your ball after an errant shot, a golf ball retriever helps you save those pretty pennies (or dollars) you spent on balls that you may have only hit once! A ball retriever allows golfers to retrieve balls from water hazards and deep rough. They feature telescopic extensions and a swiveling cup at the end. Especially useful for hole 17 at TCP Sawgrass! IYKYK
Portable Speaker
We like to add a little "umph" to our 4+ hour days on the green with a portable speaker. For under $100, this is easily one of the best gear purchases we've made for golf outings. Specifically, we love the JBL Clip 4 speaker because of two things: it's waterproof and it has a built-in carabiner that lets you clip it on to just about anything (making it a gear piece for much more than just golf!). While we're not jamming out the entire round, we love listening to the sounds of nature and a good, clean shot, this is something that we always bring along, because when you're having a bad start to your game, a little music goes a long way!