Spring is in the air and that means only one thing….golf season is creeping upon us. The rolling green manicured hills of a golf course suggest sunny, warm days ahead and Colorado arguably has some of the best golf courses in the west. Whether you are a seasoned golfer or just learning, there is something for everyone. Join us for this three part series on golfing in CO!
Golfing: a Yearlong Activity
Looking for a state that offers outdoor activities year round? Colorado is it and it's not just limited to snow sports in the winter and water sports in the summer. There is a misconception that Colorado is covered in feet of snow the entire winter. In reality, there are gorgeous weather conditions throughout the winter so you can golf or hit the driving range even in the dead of winter. Golfing mid-January in CO? We got you covered! Many courses are open year round as long as there is no snow on the ground.
What's our favorite time of year to play a few rounds in CO? Fall! The mild weather, the spectacular beauty of the changing season and the golden aspens and grasses along the courses make for a stunning sight as you tee off in any location. Don't be fooled, though, spring, summer and winter all have their perks, too!
Best Courses you can Play in the Metro-Area
The Denver Metro-Area is full of playable courses for any level of skill. The hardest thing is picking the course that is right for you and making a tee time, spots fill up fast once the weather starts getting consistently warmer. Read below for an overview of a few of our top picks along the front range.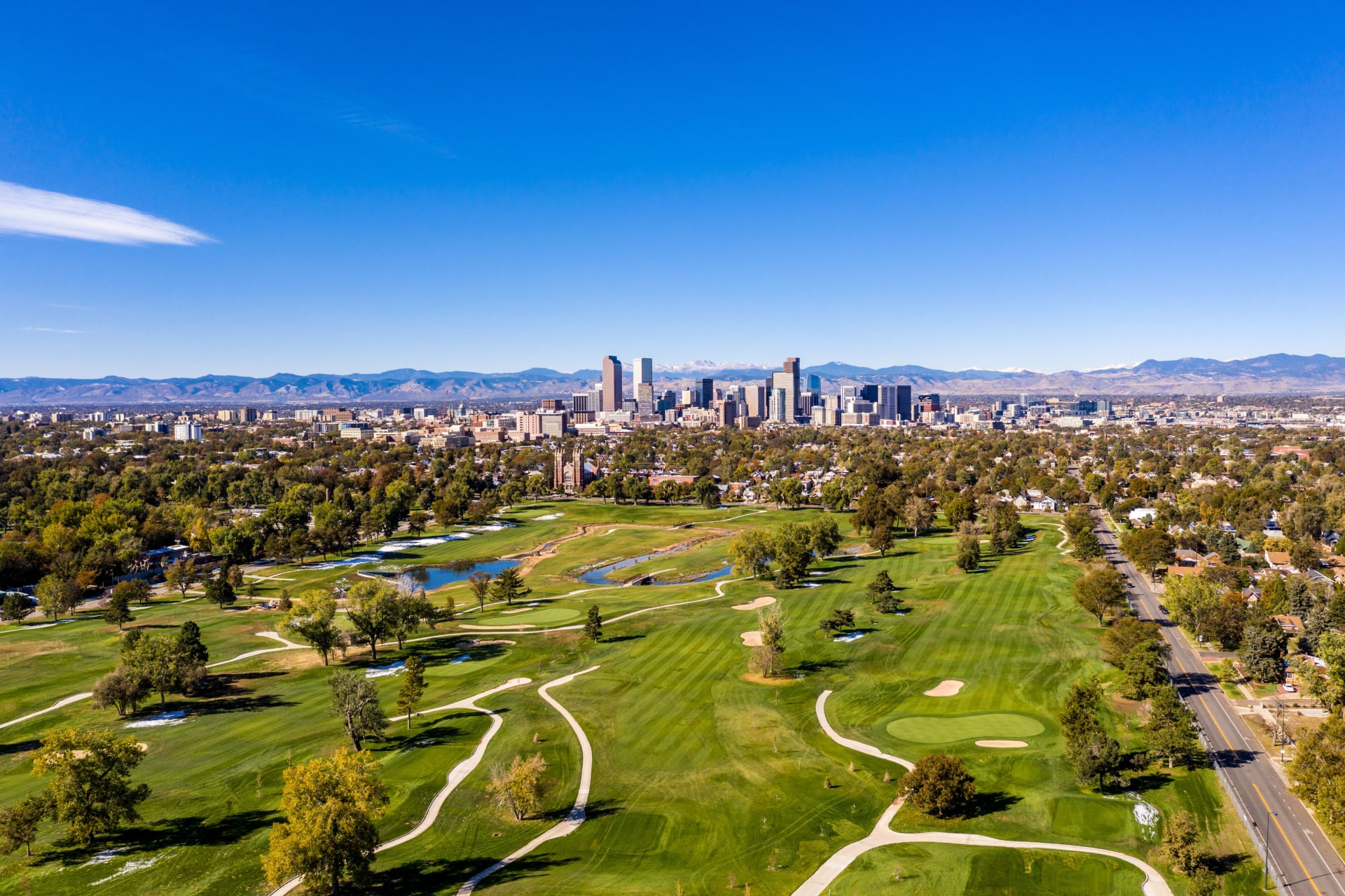 Central Denver Courses
Located in the heart of the city, this recently remodeled urban parkland style course offers breathtaking views of the downtown skyline and the Rocky mountains.
With a panoramic view of the Rocky Mountains, the layout runs through full-grown stands of trees, with narrow, sloping fairways and small, subtle greens. Various holes are well-bunkered to require accurate play.
At 7,220 feet, this 18-hole executive course sits along Bear Creek. Rolling hills and fairways lined with pine trees make this an affordable mountain golf experience just a short drive from the city. Elk and other wildlife sightings are frequent on the course.
As the only Donald Ross designed public course West of the Mississippi, Wellshire provides a country club atmosphere at an affordable price. Walk in the steps of Ben Hogan while hitting off of lush fairways lined by mature trees.
North Metro Courses
Located near the Denver metro area, Fox Hollow has three nine-hole configurations, each with its own unique character, delivering 27 championship holes full of vistas, water challenges, wildlife and a protected natural environment that will make you forget you are only a few miles from the bustle of urban Denver. Five sets of tees challenge golfers of every ability on this nationally recognized course that was one of the first in the nation designed to be completely accessible to golfers with disabilities.
As a short championship golf course located near the Denver metro area, Homestead creates an accessible bridge between championship-style play and a shorter overall course length. This links-style course, with four sets of tees and two unique nine-hole personalities can create memorable challenges to even the most seasoned golfers.
Designed by Jim Engh, the course is challenging and also quite unique not only in its demanding layout but also for its rich history. The name of the golf course actually comes from the fact that situated near the 12th hole there are trace fossils of palm fronds and triceratops footprints that are over 60 million years old. This public course has received acclaim from golf publications such as Golf Magazine.
The course, designed by Pete and Perry Dye, is a Scottish style links course, meandering along the South Platte River. Plenty of pot bunkers, mounds and water, and (naturally) the trademark railroad ties, are featured on this consistently challenging and top-rated public golf course.
Conveniently located between downtown Denver and Denver International Airport (DIA), Green Valley Ranch Golf Club is an award-winning 18-hole Championship course, with a popular 9-hole par-3 course, and a full range practice facility. Designed by Perry Dye, the course is 7,241 yards at its longest tees and plays to a par of 72. Here you are surrounded by lush grasses and wetlands and it is noy unusual to see wildlife such as deer, fox and eagles on the course.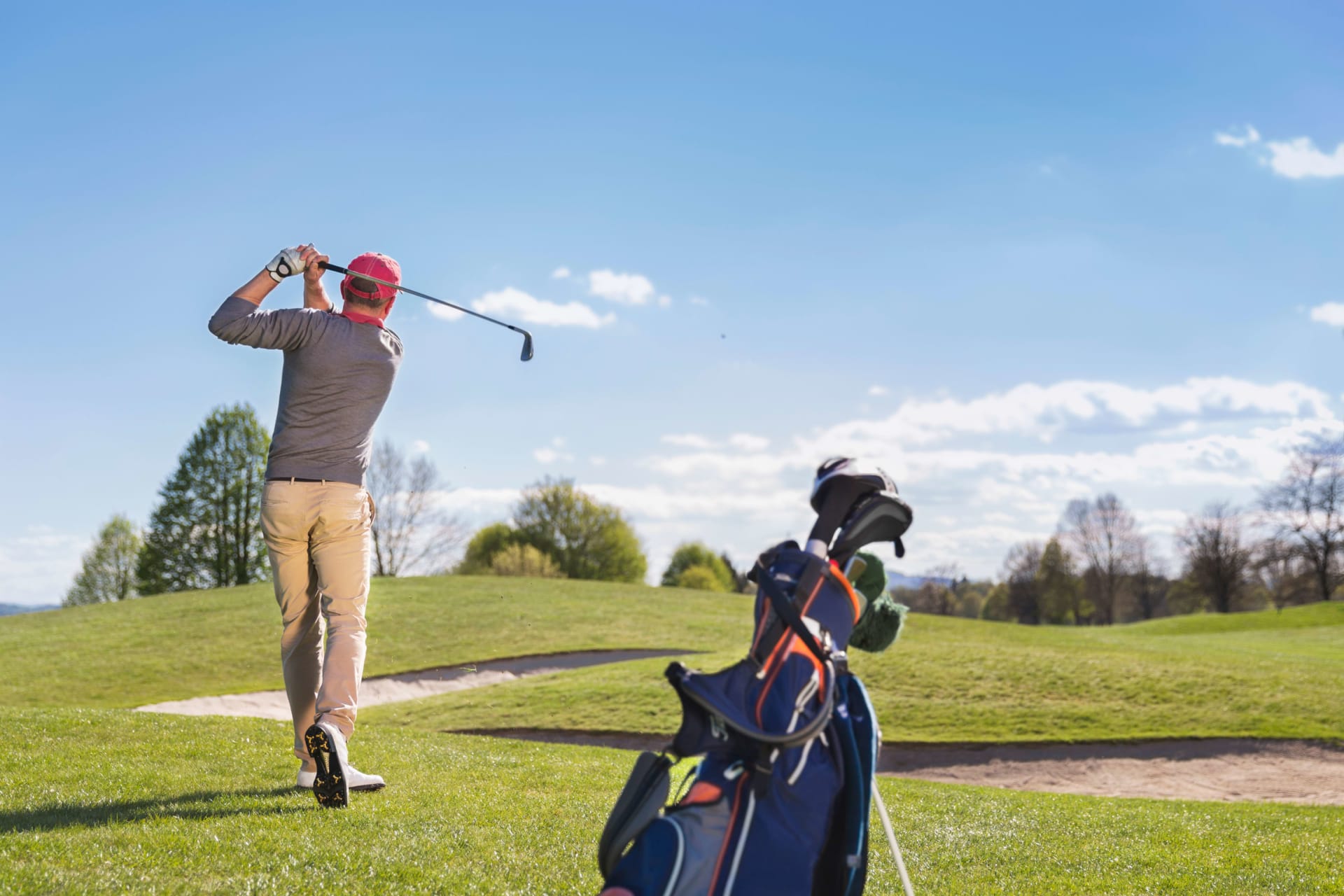 Designed by Richard Phelps. The golf course opened in 1999 and offers 7,263 yards of golf with a par of 72. It has a prairie like landscape with lakes forming water hazards that come into play on eleven holes. The greens are undulating and large and the rolling fairways are wide
This Colorado-style Scottish links layout designed by Arthur Hills targets players of all levels with four tee boxes on every hole, wide fairways, generous landing areas and greens that average more than 6,000 square feet. Legacy Ridge also takes full advantage of the sweeping mountain views, wetlands, prairie grasses and gently rolling topography.
The 18-hole course is one of two courses offered, the other being a nine-hole, par-3 course. The golf course covers over 7,003 yards at its longest tees. The hilly terrain of the course causes challenging uneven lies. The course has some tricky elements that are aimed mostly at advanced or low handicap golfers. Indian Tree Golf Club's easier nine-hole course offers good practice and a good place for beginners and younger golfers to play while more experienced golfers play the more demanding 18-hole course.
South Metro Courses
This course has been declared the top public course in Denver in the past by Golf Digest, as well as one of the top 75 public courses in the nation. The towering red sandstone rock formations are a trademark of the course, providing a unique and beautiful atmosphere, which is further enhanced by the abundant wildlife that have made the course their home. The rolling terrain provides elevation changes and undulation to the greens.
Designed to serve as an affordable public golf facility, this course supports the growth-of-the-game missions of both the Colorado Golf Association and the Colorado Women's Golf Association. Designed by Tom Doak, CommonGrounds is a parkland/links mixture that is walkable and affordable.
Featuring a nine-hole, par-3 course and a championship-length course designed by Perry Dye, Broken Tee also boasts an excellent junior golf program, which makes this municipal facility perfect for family outings. The nine-hole municipal course offers 1,750 yards of golf at its longest tees. The course offers great practice for beginning golfers.
Just south of Denver, the public, 18-hole course offers a challenging game of golf set against a landscape of tall Ponderosa Pines, old oak trees, and lush native grass valleys. It is a championship, mountain-style golf course that offers 7,726 yards of golf from its longest tees with a par of 72.
Located in the foothills of the Rocky Mountains, the course offers beautiful panoramic views of Colorado's Front Range and Castle Rock. The rolling terrain causes dramatic elevation changes for a fun, challenging game. It was designed with a traditional links-style layout with large, undulating greens and generous, subtly rolling fairways.
*Luke's top pick