Located near Denver's city center, the neighborhood of Cherry Creek has become increasingly popular with young professionals moving to the area for work. Widely considered one of Colorado's nicest places to live, the area is home to amazing schools, local retail, and some of the area's most popular dining. Read on to learn more about what makes Cherry Creek such a great place to live for young professionals!
1. Fantastic Shopping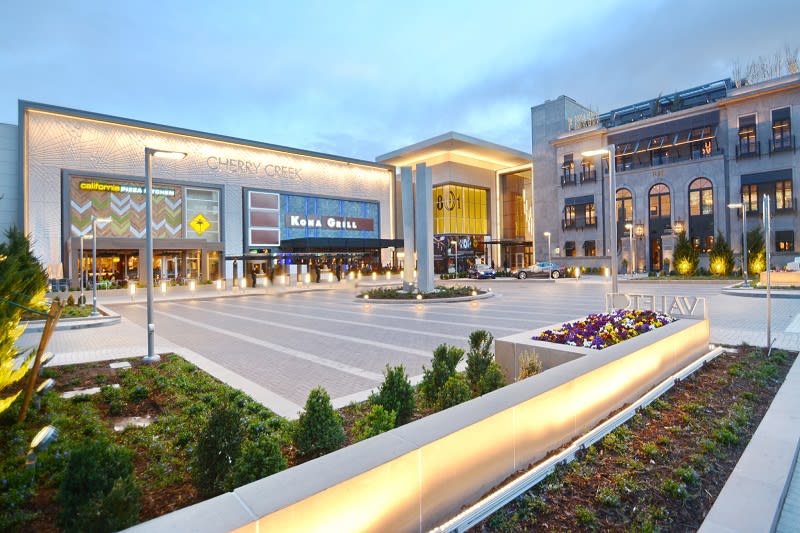 Credit: Shop Cherry Creek
While much of Cherry Creek is residential, there's no shortage of exciting shopping destinations in this neighborhood! Cherry Creek Shopping Center is an upscale indoor shopping mall that's home to over 160 stores, including retail favorites like Burberry, Free People, Kate Spade, David Yurman, Apple, Bath & Body Works, and many more. This shopping center serves as an anchor to the neighborhood.

Locals also love to hit up Cherry Creek North, an outdoor retail and dining area that spans sixteen city blocks. Cherry Creek North boasts over 175 locally owned boutique retail stores and also is home to nationally recognized retailers, including Room & Board, CB2, Freebird, Kendra Scott, and more. Young people in the area flock to Cherry Creek North to enjoy delicious meals at the over 50 dining options or to get a relaxing mani-pedi, massage, or even float treatment at the local salons and spas.
2. Beautiful weather
As a whole, Colorado is an outdoorsy state with plentiful sunshine and warm summers, and the Cherry Creek neighborhood of Denver is no exception. When you live in this area, which boasts one of the metro-areas highest walk scores, walking to work, school, or to meet up with friends is easy and a great way to soak up the sun. Denver is a very dog-friendly city, so it's easy to get around with your pets or take a trip to the dog park. Cherry Creek also boasts plenty of green space and beautiful garden areas, making for a lovely and vibrant neighborhood.

Of course, in the fall and winter, Cherry Creek, as well as the rest of Colorado, transforms into a winter wonderland. Snowfall is quite common in the state, and skiing and snowboarding are popular pastimes. While Cherry Creek doesn't have any ski resorts located within the city limits, there are plenty of winter activity opportunities that are just a short drive away— Echo Mountain Ski Resort is located just an hour away by car, and world-class ski resorts like Vail Ski Resort, Breckenridge and local's favorite Arapahoe Basin are less than two hours, all offering skiing, snowboarding, tubing and more!
3. Healthy living

Credit: Denver Botanic Gardens
Young people love living in Cherry Creek because it's such an active and healthy area. Cherry Creek is an extremely popular area for bikers because of its proximity to miles of bike paths that weave throughout the metro area, providing an environmentally friendly way to get around town while simultaneously offering residents a great way to get some extra exercise.

Locals love to bike along the Cherry Creek Bike Path, a stunningly picturesque 40-mile trail that leads right through the heart of Denver. The path takes riders through Arapahoe and Douglas Counties and is predominantly concrete, but some smaller sections in the rural southern section become gravel. Along the beautiful trail, you'll visit Denver's Confluence Park, follow the sparkling Cherry Creek, tour urban landscapes, pass by the Four Mile House and Historic Park, and emerge in the beautiful Cherry Creek State Park.

The park is another major bonus that young residents love. There are lots of ways to enjoy outdoor recreation in Cherry Creek State Park, from winding hiking trails to tricked-out campsites. A multitude of water-based activities are available on the lake; try out boating, sailboarding, fishing, jet-skiing, rowing, and summertime swimming. For your convenience, the park offers a roped-off swimming area near a sandy beach that makes for a great day out during the warm summer months. There's also a nearby bathhouse with available restrooms for visitor convenience.

Looking for other ways to enjoy Cherry Creek's great outdoors? The Denver Botanic Gardens, a beautiful space that features stunning art and garden exhibits and is one of the top cultural attractions in the state. Many events are held at the Gardens throughout the year, including a spring plant sale, summer concert series, a Dia de Los Muertos festival, and of course, the Blossoms of Light holiday light show.
4. Desirable location
Cherry Creek is the perfect neighborhood for young professionals working in Denver who don't need or want to be right in the heart of the city. While the neighborhood is close to the city center, making it desirable for entertainment and dining options, Cherry Creek itself is quiet, safe, and very walkable.

There's plenty of greenery in the area, from parks to hiking and biking trails, so you won't feel stuck in the city. It's a great place to have a dog and also a fabulous place to purchase a home or begin raising a family. Homes in this residential Denver neighborhood are also located within walking distance of retail favorites like Whole Foods, so you won't have to drive far to grab groceries or pick up essentials. Additionally, the school system in the Cherry Creek area is excellent, so young professionals in the neighborhood can rest assured that their children will be receiving a great education. Students in the Cherry Creek area attend and graduate from East High School, a top-rated public school that's typically rated one of the best in Denver. The high school is great for both student-athletes and students who are hoping to go on to attend great colleges.
5. Fun places to dine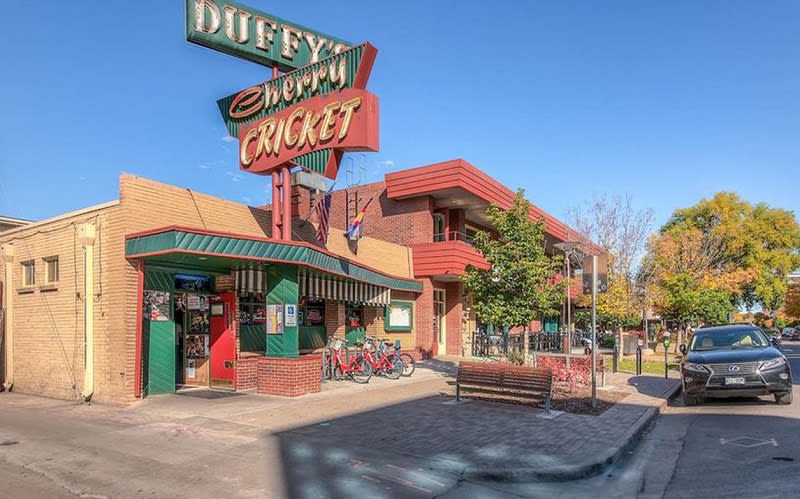 Credit: Denver Eater
Cherry Creek's dining scene has been booming over the past few years, another reason why it's so popular with young professionals looking to share a meal with friends! No matter what type of food you're craving or what kind of celebration you're planning, Cherry Creek has the perfect restaurant to meet your needs.

There are lots of great casual eateries located in the area, great for quick meals with friends and coworkers. The Cherry Cricket is an iconic burger spot that's been around since the 1950s, serving up favorites like wings, chili cheese fries, nachos, and of course, a wide array of burgers. Fortune Wok to Table is a great place for Chinese favorites like handmade dumplings, while Grind Kitchen & Watering Hole is the place to be for Southern brunch. With an incredible selection of drinks like classic and craft cocktails, house wines by the glass, house margaritas, and old-fashioneds, Grind Kitchen is the place to be for happy hour.

If you're looking for something more upscale, Cherry Creek has lots of fantastic options. Locals love Narrative, which serves up modern American dishes on shared plates and features a stunning wine selection. Italian foodies rejoice with the Northern Italian menu and wine list featured at top Denver restaurant Barolo Grill. Lovers of French cuisine will enjoy the garlic-herb buttered escargot and foie gras torchon at La Merise, while Japanese favorite Matsuhisa is always an incredible place for a celebratory dinner.
6. Great things to do with friends
Cherry Creek is a great place to live if you're young and social! Meet new people and bring your dog to the Cherry Creek Beer Garden, where you can relax and sample craft beers on their relaxing patio. Located at the Moxy Denver Cherry Creek hotel, this fun spot attracts an exciting and interesting mix of people, and the space is designed to facilitate conversation by featuring movable furniture, games, and a bar that serves as the hotel check-in counter for guests. The beer garden even offers dog-friendly beer, so your four-legged friend won't have to miss out on the fun. Grab rooftop cocktails at Halcyon or stop by one of the area's many salons and spas for the perfect girls' day out.

There are also lots of fun activities hosted in Cherry Creek on a regular basis. Soak up the arts at the Cherry Creek Arts Festival in September, a family-friendly art event that features live music and entertainment, art for sale, interactive experiences, and plenty of food and drink to enjoy for the entire family. Can't decide which restaurant to try? The Cherry Creek North Food & Wine event, held every August, features over 20 over the area's top restaurants where attendees can sample food, drinks, and of course, hand-selected wine while dancing under the stars in the streets of the neighborhood.

Looking for houses for sale in Cherry Creek? Contact experienced and knowledgeable real estate agent Luke O'Bryan today! He will be happy to help you in your search for Cherry Creek luxury homes.