As Colorado's capital city, Denver is renowned as the state's hub for metropolitan sophistication and natural wonders. It's brimming with outstanding attractions - between the thriving culinary, craft brewery, and vibrant music scenes, there's also the breathtaking Rocky Mountains. Denver's parks are no exception to this rule, as they provide residents and visitors a myriad of spaces to play, explore, and soak in Colorado's cultural offerings. Below lies a short and sweet list of Denver's finest parklands.
Washington Park
Washington Park offers 165 acres of lush, green grass, two lakes, and boundless recreation. This neighborhood gem is one of the largest parks in Denver and is over 115 years old! Washington Park features various activities and amenities, including a public recreation center with weight and cardio rooms, a stretching room, a lawn bowling green, an indoor pool, a climbing and bouldering wall, group fitness classes, and more. The park itself includes basketball courts, ten tennis courts, two playgrounds, lush gardens and ponds, and more.
As one of Denver's most popular parks, you'll find yourself gravitating toward its ample amenities and a thriving sense of community. Here, you can join volleyball leagues, enjoy a picnic on the lawn, and take a bike ride all while soaking up Denver's fresh air.
Washington Park offers 250 picnic permits per year and hosts competitive tennis leagues during the summer. Whether you're commanding the playground or basketball courts, heading to the rec center for a class, or simply enjoying watching others play sports, your family will enjoy returning to Washington Park time and time again.
Civic Center Park
A slice of natural beauty amidst an urban jungle, Civic Center Park is the center point of every significant rally, protest, and parade in Denver. Given the park's central location to state and local government institutions, it's clear why the Civic Center is the ideal destination for political movements fighting for various causes. For over a century, Civic Center has been the site where pivotal demonstrations and annual community events have occurred.
Some local favorites include Civic Center EATS, PrideFest, A Taste of Colorado, and Civic Center MOVES. Since 2006, Denver's best food trucks have gathered in the park on summer days to hawk their fare at Civic Center EATS. Those who may have indulged in too many food truck delights can head to the one-hour Vinyasa yoga class at Civic Center MOVES.
For a genuine Colorado extravaganza containing mass amounts of local art, activities, and live music, head to the convivial A Taste of Colorado festival, held during Labor Day weekend. In June, PrideFest takes over the area with weekend-long jubilation, making it the largest LGBTQ pride event in the Mountain West.
Meditate through movement with a yoga class, catch a theatre performance at the Greek amphitheater, and relish the twinkling lights at the Parade of Lights holiday ceremony at Civic Center Park.
Cheesman Park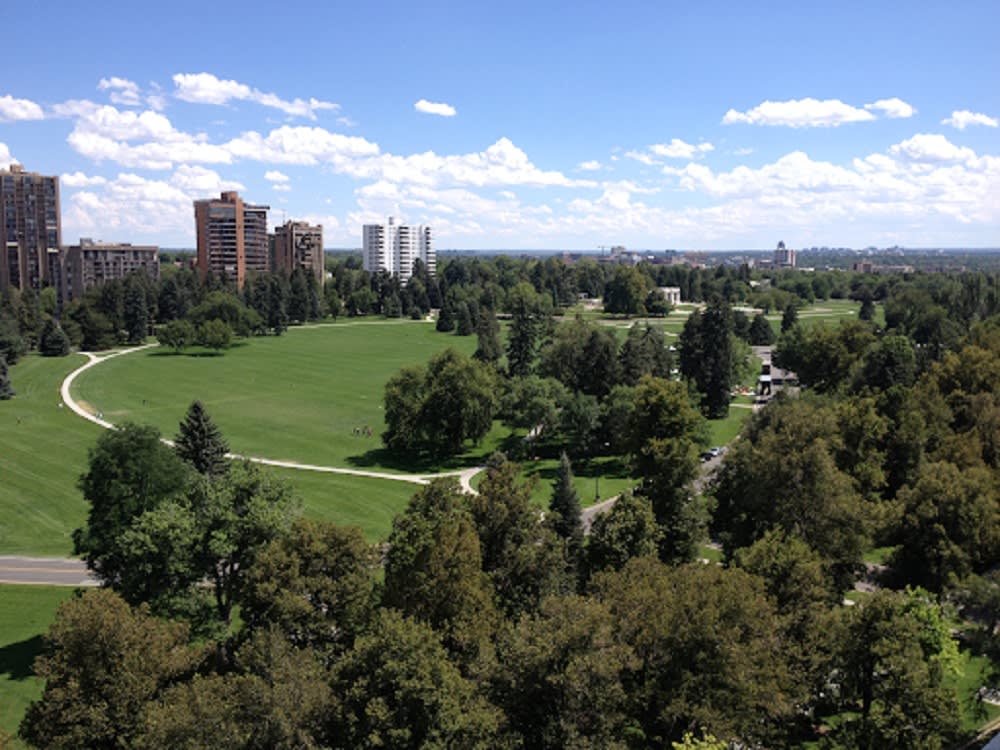 A view of Cheesman Park in Denver, Co, Credit: R0uge / Wikipedia
For a slice of tranquility in the great outdoors, head to Cheesman Park. This haven features beautiful flower beds, picnic tables, a jogging path, a bike/pedestrian path, a gazebo, and stunning mountainous and city scenery views. Adding to the history of Cheesman, the park was once a cemetery rumored to be haunted. Today, it is a lovely community gathering spot for events and recreation.
In addition to fantastic outdoor activities, Cheesman Park is home to the Denver Botanic Gardens, where fabulous art exhibits, live concerts, workshops, and programs are held. Visit the Gardens on select Mondays and Wednesdays throughout the summer to enjoy live musical performances during Evenings al Fresco. Other events offered include Glow at the Gardens, Dia de los Muertos celebration, Blossoms of Light, the annual plant and bulb sale, and more.
Cheesman Park hosts events of its own, notably the Cheesman Park Art Fest. 2021 will be the 8th annual art fest, where 135 national and local artists and craftspeople showcase their artwork. The work varies in style, medium, and price-point, making it easy for anyone to find something beautiful to take home. The event is juried, and a lot of dedication goes into curating the selection of hand-made American crafts sold directly by artists. The Art Fest features live entertainment by local artists and a range of Denver food trucks to sample.
City Park
City Park was designed as a much-needed outdoor recreational space for city dwellers, granting residents a place to rest and recuperate. As Denver's largest park with a sizable 330-acre leisure area, downtown workers and inhabitants have a haven to relax in and enjoy some of Denver's finest institutions.
The Denver Zoo, the Denver Museum of Nature and Science, Ferril and Duck Lakes, and a boathouse are located within the park's bounds. The lakes are fit for fishing, and Ferril Lake has paddle-boating. Additionally, this expansive park features tennis courts, a handball court, horseshoe pits, baseball, football, and soccer fields, historical monuments and statuary, picnic sites, and two playgrounds. Nearly every evening during summer, recreation leaguers can be spotted playing soccer, softball, flag football - you name it!
Local favorite City Park Jazz summer fest is hosted in City Park! This free community jubilation features exclusively local musicians, attracting between 8,000 to 12,000 Colorado residents to the park on Sunday evenings during the summer to revel in various festivities. Live entertainment aside, several vendors and food trucks offer delicious dishes and trinkets to round out your festival experience.
Head to the zoo to monkey around, tour the museum for a dash of education, and visit the City Park Jazz festival at the beloved City Park.
Red Rocks Park and Amphitheatre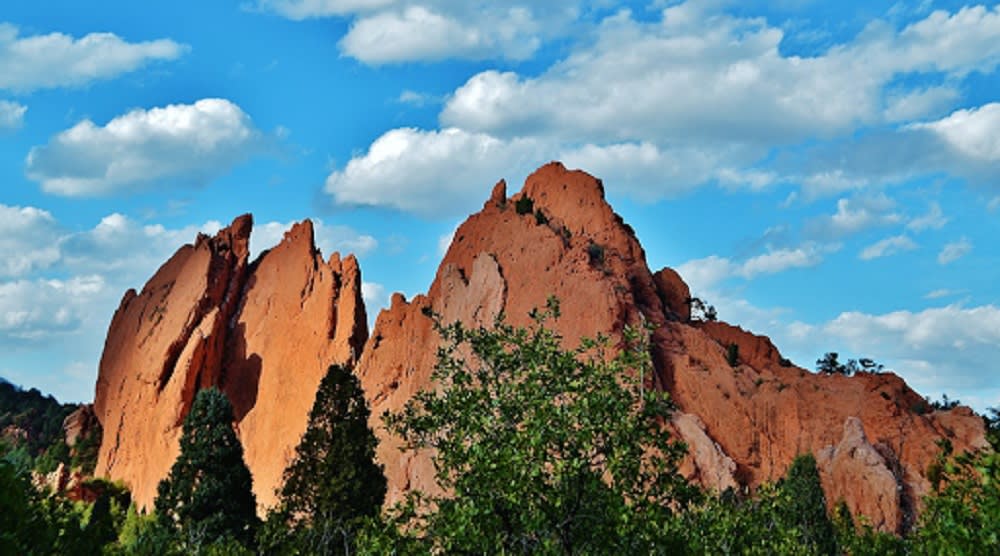 Music and nature are gathered harmoniously at the 868-acre Red Rocks Park and Amphitheatre. This beautiful park is owned and operated by both the City and County of Denver and is part of the Denver Mountain Parks. What was once a favored campsite of the Ute tribe — due to the rocks providing prime shelter from the elements — Red Rocks is a premier destination for outdoor recreation and live entertainment today. When concerts aren't happening, locals and tourists can be seen exercising and taking in the many sights. Between the trails, visitor center, trading post, Ship Rock Grille, and amphitheater, visitors never experience a dull moment.
Nature walks abound here, and there are a variety of trails to explore. Trek the 1.4-mile Trading Post Trail to view miraculous rock formations, valleys, and a natural meadow. The Funicular and Geologic Overlook trails are shorter, ideal for relishing panoramic views or enjoying a lovely picnic. Follow the creek along the short Mt. Vernon Creek Trail, where you can get an excellent glimpse of the amphitheater as you weave throughout the meadows overlooking the creek. Equestrians are welcome to bring their horses to the Red Rocks Trail, which also permits hiking and mountain biking.
If you prefer a night of entertainment over a nature day trip, check out the amphitheater's itinerary. The amphitheater has earned a spot in the top 10 live music venues in the country by Rolling Stone and is among the top 10 best live music venues in the world by Music Gateway. Past shows include an eclectic range of artists, including deadmau5, Wu-Tang Clan, Florence and the Machine, Mumford and Sons, Foo Fighters, and Denver locals The Fray.
At Red Rocks, you can also experience Yoga on the Rocks, which allows yogis to practice every Saturday and Sunday among the breathtaking mountain landscape. You also don't want to miss the 22nd annual Film on the Rocks. This one-of-a-kind drive-in movie experience features classic films presented on an LED screen and provides guests with Coca-Cola, popcorn, and candy — all the treats to accompany a great flick.

Join the Denver community by buying yourself a luxury Downtown Denver condo or a Park Hill single-family home. Call Colorado realtor Luke O'Bryan to assist in your search for Cherry Creek real estate - or find a lavish home in any of the excellent communities he services. Luke's extensive experience and expertise in Central Denver's neighborhoods will lead you to the Colorado property of your dreams.